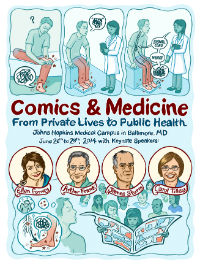 I heard it a few times when I mentioned I was going to the Comics & Medicine Conference 2014 — "I'm surprised there's enough about that for there to be an entire conference."
I would always happily point out that one of the top-selling graphic novels in recent years is an autobiographical tale about a girl's experiences with dental trauma.
I am, of course, talking about Raina Telgemeier's Smile.
And after mentioning that, people do begin to realize just how huge the topic of comics dealing with health, illness and medicine can be.
In so many ways, comics are uniquely suited to communicating about health, whether it's personal stories or instructive information. After all, comics marries visual elements with words and it becomes more effective than either one could be alone.
I attended Comics & Medicine as a guest of Small Press Expo (we were one of the sponsors) and while I was only able to attend on Saturday, I was so thrilled I got to go.
To be clear: This was, at its core, an academic conference. While many comic creators were involved, the focus was on presenting papers and sharing knowledge. This was absolutely reflected in the sessions I attended.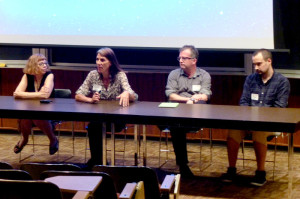 The first featured Nicola Streeten discussing a project she was involved in where she told a story from the perspectives of both the doctor and the patient. Army Capt. Joshua M. Leone presented his paper about how comics can help servicemembers heal from trauma through the closure they can provide. MJ Jacob shared personal insights into how creating comics — or being unable to — helped her deal with her depression in unexpected ways. (Henny Beaumont was scheduled but unable to attend.) All three presenters were discussing personal stories — whether they were their own stories or someone else's — and how comics could provide different perspectives and connection to the world in an intimate and powerful way.
I then attended most of the Health Education and Accessibility presentations, which brought up topics I hadn't thought much about. Two from Research Triangle Institute International discussed their process of creating two comics in partnership with Naval Health Research Center and Headquarters Marine Corps to help servicemembers with psychological stresses. Dana Marlowe then discussed accessibility issues when it comes to online comics.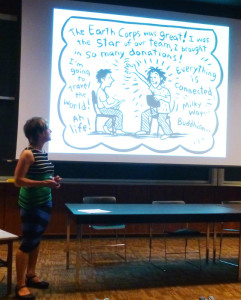 The outreach to military servicemembers — both in terms of creating comics for them and helping them create their own comics — seemed to be a small focus of the conference. I was unable to attend it, but James Sturm did discuss some of the work he's done with a VA medical center in Vermont. Overall, the therapeutic aspects of comics is one most people there seemed very excited about exploring further.
Ellen Forney was the final keynote speaker for Saturday. She presented in abbreviated form the first two chapters of Marbles, her honest, emotional and informative account of learning she had bipolar disorder and then learning to cope with it. It was book I've read and loved (it's a tough read in places but also fun and often funny) but I didn't quite realize until Saturday just how educational it was. She outlines not only her personal experiences with bipolar disorder but also offers a great deal of factual information about it and its treatment.
And I think that was really the best part of this experience — I certainly felt like I knew about the connection between comics and issues of health, illness and medicine, but I began to realize just how much comics had taught me about these subjects. Reading Marbles, I didn't realize how much about mental illness I was actually learning. And I know that Smile often gets passed between young friends when they first get their braces. I also think about the delightful work people like Cathy Leamy (who it was great to see briefly!) when it comes to issues of women's health (Mindful Drinking was one of my favorite comics from last year, period!).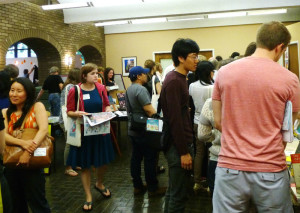 I think more so than anything else, comics offer an easy point of connection. Maybe you don't want to watch a graphic video of a surgery; maybe a medical text is too dry; but a comic can find the right balance of personal, informative and entertaining.
As someone who is not in the field of health or medicine, or even someone who really creates comics, it was incredibly inspiring to see what wonderful work all these people are doing. I know I left wanting to know more and how I can contribute to this field somehow.
(Special thanks to conference organizer Lydia Gregg and John Hopkins University for hosting.)