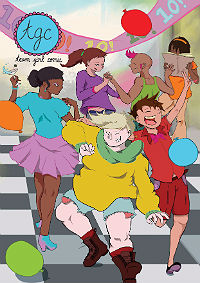 There are so many things that can change in just five years. I know I've watched with delight how women have become a growing force in comics. They're creating their own and posting them to Tumblr and speaking out about issues on Twitter. They're taking over the artists' alleys at cons and filling up sequential art classes. The changes are an amazing thing.
Likewise, Glasgow-based Team Girl Comic has grown and changed from its early days into a group that can absolutely not be ignored. If you haven't been paying attention to Team Girl Comic, Issue #10 is the perfect place to start.
As explained in the opening story by Claire Yvette and Gill Hatcher, in Team Girl Comic #10, Hatcher didn't feel like her comics were quite fitting in to the scene she saw around Glasgow in 2009. In an effort to find a community, she began seeking out other girls and women making comics. They began publishing anthologies and holding events, but the companionship and camaraderie they found in each other was the most important.
The diversity of styles and subjects is delightful. MJ Wallace's sweetly thoughtful "How I Learned to Stop Worrying & Love Me" illustrates how she made peace with her body image in touching detail, even including some sketches from her life drawing classes. Shona Heaney's "The Winston Churchill Guide to the Zombie Apocalypse" delivers on the title's promise in both hilarious and disturbing ways in bleak, scratchy pen drawings.
There's diversions into the fantastic, like "GEMS Saltire Squad" by Amanda "Hateball" Stewart, and into the surreal, like Donya Todd's "HC." Many of the stories, though, do deal with what life is like for the modern woman, like Iona "Nondo" Mowat's all-to-real "Small Talk Frustrations" and Lucy Sweet's charming reflection on getting older, "What Will I Be Doing When I'm Forty?"
The centerpiece of Team Girl Comic #10 is, without a doubt, "The Extraordinary Occurrence That Took Place at Comicon, in July 2013" written by the legendary Trina Robbins and illustrated by Hatcher. Robbins writes about how, last year, other than the predictable outcome of a bunch of men winning in the Eisner awards, a surprising number of women won. Hatcher draws the reactions — disappointment and boredom to men winning and happiness and surprise to women winning — in a playful way. What is a simple anecdote becomes an entertaining glimpse into how comics is constantly changing for the better.
By bringing together women creators of all ages and experience, Team Girl Comic #10 definitely feels like the party that's illustrated on the cover. It's one where you have friends and you'll make new ones. Everyone is welcome and everyone is going to have fun.
And I know I'm looking forward to the day when I'm reading Team Girl Comic #20.
PDF provided for review by Team Girl Comic.