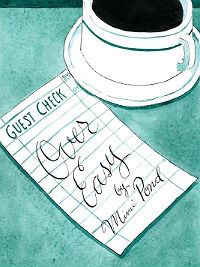 For most of us, we begin to cross the border between adolescence and adulthood when we get our first jobs. It doesn't matter so much what this job is as much as it puts us in contacts with adults who aren't teachers or parents for one of the first times. No matter what you do or don't have in common with your coworkers, you're all in that situation — that job — together.
In the delightful Over Easy (Drawn and Quarterly, 2014), Mimi Pond explores the days in the late '70s when she worked in a diner in Oakland, Calif., to pay off her art school bills.
To be clear, this book isn't necessarily a memoir, although many of Pond's own experiences are reflected here. Instead, we follow her stand-in, Margaret, as she navigates the new world of adulthood. She finds and loses love, tries drugs, and experiments with a new attitude and personality, modeled after her fellow waitresses. In other words. Margaret grows up.
While the book is told in a linear fashion, it's more episodic than plot-driven. In one chapter, Margaret will go out for a girls' night on the town with a coworker only to be ditched. She follows her coworkers' lead in the bar across the street. She watches as the waitresses and cooks pair off, break up and then pair off again.
To be clear, it's almost always Margaret's story. Nothing happens outside of her perspective, and despite the cast of colorful cooks and super-cool waitresses, only one other character is given much of a personality — the kindly stoner manager Lazlo, provides a laid-back guide to the new era of Margaret's life. Everyone else, from the owner Frank and hippie Camille, tend to be texture in Margaret's larger journey. Still there's a realism to that — while specific memories may fade, the emotions behind them remain
But Pond's easygoing and lighthearted style keep the book playful and engaging. Her gift drawing faces and body language give the book much of its humor and compliment her witty observations, which the book is full of. As Margaret applies makeup for her first day waitressing, she narrates: "Eyes with that slightly bruised look – like I've got a gangster boyfriend that slaps me around a little. I don't put my glasses on. Even if I can't see the customers, I'll flirt with them anyway." It's illustrated by Margaret concentrating on applying her mascara and then squinting at herself in a full-length mirror. We've all been there, in one way or another.
The duo-tone teal washes also let this tale feel comfortable and lived in. It's like old sketches or faded snapshots. In Pond's hands, the book offers glimpses of people who are neighbors, friends, coworkers.
And that's the ultimate takeaway from Mimi Pond's Over Easy. It's just one young woman's story about working in a diner in the late '70s, but it's also about finding one's place in the world of adults and that's a story that's easy to recognize. This may not be the time or the place where you worked, but it might as well be.
Copy of book provided by Big Planet Comics.