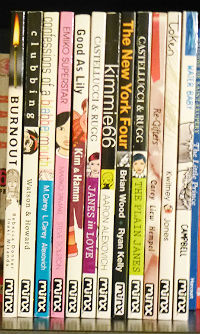 Last year, I read Peanut by Ayun Halliday and Paul Hoppe. The graphic novel is about a teenage girl, in attempt to make herself seem intriguing, fakes having a peanut allergy. It's a lovely book that I feel deserved more attention.
But my one thought after reading it was "That could've been a Minx book."
An imprint of DC, Minx launched in 2007 and was dead by 2008, but there were problems as soon as it was announced. The name Minx never bugged me — it was cute and just salacious enough — but the lack of female creators was an issue. Minx had too much to prove and had to do it too quickly.
But Minx ultimately faced a bigger problem than just skepticism: The books just weren't very good.
The majority of the 12 titles follow this extremely set format: An introspective, outcast teenage girl flirts with danger and boys before learning some very important life lesson, delivered with some moralistic overtones. They play a bit too safely, shying away from any real issues. For a moment in Confessions of a Blabbermouth, there was an implication of possible sexual abuse before it was quickly resolved into a "twist" that had been obviously almost from the beginning. Emiko Superstar isn't the worst of the bunch, but when compared to the devastating and beautiful Skim, also written by Mariko Tamaki, it feels obvious the Minx editors didn't trust their audience's ability to handle anything that could be perceived as "dark."
If this was just one or two of the titles, it could be forgiven. But when faced with about seven titles that all share what is more or less the same character and the same plot dressed up in different ways, it begins to feel a bit paternalistic and tiresome.
Not every one is like this, though. Ross Campbell's Water Baby is refreshingly crude and physical and has teenagers that actually act and talk like teenagers. The New York Four, by Brian Wood and Ryan Kelly, has its issues, but at least felt like something teenage girls would want to read. I don't know where Aaron Alexovich's Kimmie66 was originally pitched to, but with its twisty sci-fi story about identity, it's definitely the oddball of the bunch (and is perhaps the most interesting because of it).
But I think beyond issue of repetitive plot structure, what bothered me the most about the Minx books is that they're all basically a waste of good talent.
The editors had a good eye at hiring creators who appealed to young women but then buried the exact things that made them appealing to that audience.
Jim Rugg is a phenomenal artist, and while his work on both of the Plain Janes books is attractive enough, it lacks the kinetic, playful energy of his Street Angel. Both Andi Watson and Derek Kirk Kim are poetic, thoughtful writers, but Clubbing and Good As Lily suffer from the lack of their art. For the most part, there's very little chemistry between the writers and the artists. These books feel like work for hire and it shows.
Still, there's a part of me that admires Minx not for what it ended up as, but for what it wanted to be. Minx was definitely an attempt to capture the young female readers of manga, but I think it provided a point of transition for publishers to realize this was an audience worth catering to. I can't think of too many graphic novels aimed specifically at teenage girls before Minx. I can think of way too many that have come out since then.
I don't think it's quite right to say that Minx opened the door for those graphic novels. But, at the very least, I think Minx deserves some credit for making publishers realize that there was a door worth opening.
Near Miss is a semi-regular feature that will be appearing on Comicsgirl throughout 2013-2014. This project is sponsored by Big Planet Comics.