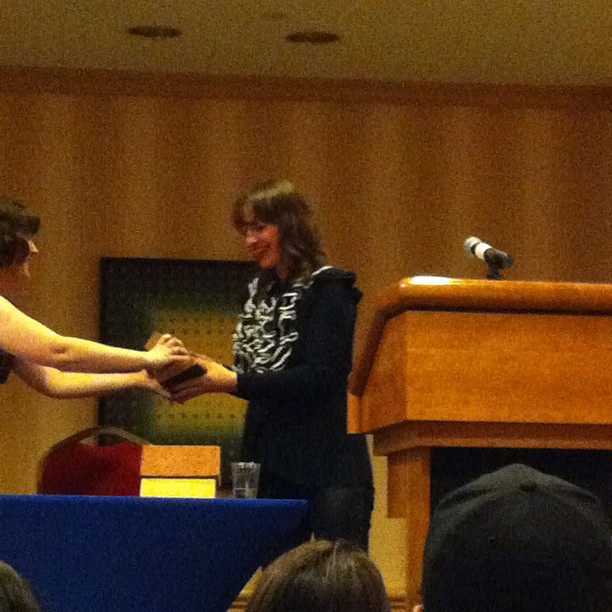 I really only have a couple of things for this week (I won't collect every single link about Small Press Expo, after all) but I thought I'd take this space to talk a little bit about Small Press Expo 2013.
It was, as always, exhausting and amazing. I really didn't get to spend as much time walking the floor as I would've liked nor did I get to see so many people I wanted to see. But I'm kind of resigned to the fact that this is how the show goes for me now. I was already pretty wiped out on Saturday (but astonishingly, actually managed to eat three meals, mostly because Greg Bennett made sure of that. I am incredibly grateful for that).
The entire process of the Ignatz was pretty intense this year. I don't think a lot of people submitted until after table registrations happened. But then the books just kept coming. And coming. And coming. I know none of us expected to get so many books. I know I didn't.
But I think the strength of the nominees really showed the depth of the titles we got. There were many a few usual suspects but I know the jurors were extremely thoughtful in their choices. So many of the categories were tough choices for me.
And yes, I was clearly delighted when all the Outstanding Graphic Novel nominees were women. That just happened organically and all of those books absolutely deserved to be there.
And speaking of that, I was so thrilled Liza Donnelly agreed to host this year. She's spoken at the United Nations! When she said she was thinking about having all the presenters be women, I basically said "I would love that." While we both worked to pick a good list of presenters, she definitely gets all the credit.
The whole ceremony and experience meant a lot to me. In my earliest days of reading and writing about comics, I never thought I'd get to do something like this. I've had a rough couple of years and so it felt satisfyingly wonderful to be able to be a part of something so amazing.
(I was so happy Ulli Lust won! Today is the Last Day of the Rest of Your Life is amazing and I loved it so much. And I am so jealous of my friend who got to hang out with her quite a bit. When he said "You two are on the same page about so many things," that really didn't help.)
Onto your regularly scheduled and short D.C. Area Scene.
News/reviews/interviews: 
Kickstarter:
Events:
Have comic news or events related to the D.C. area to share? Email me by 4 p.m. Tuesday. More information is here.