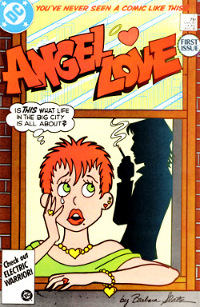 Barbara Slate's Angel Love was one of the major inspirations for this project so I was delighted she agreed to answer my questions through email about its creation and her career — then and now. She had so many cool things to say!
Comicsgirl: What brought you to comics? 
Barbara Slate: In the 70s, I created the first feminist greeting card line featuring a character called Ms. Liz. We sold over two million greeting cards. I appeared with Ms. Liz on the Today Show, and drew a Ms. Liz comic strip which appeared monthly in Cosmopolitan magazine. Ms. Liz was my obsession for nine years but competing with Hallmark was no easy task and for various other reasons, I was definitely looking for something else. So, when a friend suggested I contact Jenette Kahn, president at DC Comics, I did. Luckily, the timing was fortuitous. Jenette was looking to create a girl's line of comics.  
CG: What makes you prefer that over other forms of storytelling? 
Slate: Comic books have it all! I can create my own characters, draw them, and write their stories. I think comic books are beautiful in their simplicity. Every month my work appears in a 24 page story produced on cheap paper and held together by staples! How lucky can a girl be?! 
CG: What keeps you wanting to create comics?

Slate: I love telling stories. My latest graphic novel is Getting Married and Other Mistakes. I also love teaching teens and adults how to do a graphic novel. I find this work rewarding and it takes me all over the country as a teacher and speaker on the subject.
CG: How did Angel Love come about? It did seem like it was part of an era where DC Comics was trying new things.
Slate: In the early 80s, the comic book reader was 95% boys, 5% girls. Jenette and her staff liked Ms. Liz, so she asked me to create a character for DC Comics. Writing and drawing greeting cards is very different than comic books. Although Ms. Liz has a personality and point of view, she did not have the depth of a character like Angel Love where a Character Bible and Plotline were part of her backstory. I am forever grateful to Jenette. She handed me the Wonder Woman Bible to study and had her two vice presidents, Dick Giordano and Paul Levitz, teach me how to plot using color code. Then she introduced me to my editor, the amazing Karen Berger. In a month's time, my education through DC Comics was like attending a four year college in how to do a comic book.  
CG: I know you teach graphic novel workshops. I constantly hear from other teachers of sequential art classes that their classes are at least half female, if not more than half.  Has that been your experience?
Slate: When I first started teaching, I was afraid there would be 15 super hero inspired boys but instead it was half boys and half girls. That is a wonderful thing to see. The super hero genre is usually about 15% of the class. My book You Can Do a Graphic Novel breaks down the steps  so anybody can learn to do a comic book. It may not be a graphic novel that gets published by Marvel Comics, but it is a fun and rewarding process.  
CG: Is it important to you to encourage girls specifically to make their own comics?
Slate: It's a funny thing about being a woman in comics. There is an unwritten code that you are supposed to "empower girls." When I first started, it was just me and Trina Robbins writing and drawing comics for Marvel Comics and DC. That was the time to encourage girls specifically to make their own comics. Today, I teach girls who are already empowered.  I really don't see the purpose of encouraging girls specifically over boys. Writing and drawing comics is an equal opportunity passion. 
CG: What changes in comics overall have you seen in comics during your career?
Slate: Certainly, computers have changed the way comics are created, especially in coloring and lettering. Another big change is that the comic book reader is now 50% girls due mostly to the Japanese manga influence. When Angel Love hit the market in the 80s, there was no place for her in comic book stands. She was literally squeezed in between superheroes. It is disappointing to see that Marvel and DC Comics still have not embraced a line of comics for girls; however, mainstream publishers saw that kids love comics and have created their own divisions. The change is that they call them graphic novels. 
My theory is that the name "comic books" was so demonized in the 50s, that main stream publishers thought if they changed the name to "graphic novels", the mothers wouldn't notice that their kids were really reading the dreaded comic book. (Will Eisner was the one who originally coined the name "graphic novel" with his publication of his book, A Contract with God.) 
And it worked! Teachers today use comic books as a teaching tool. Librarians have special sections for the graphic novel. It is a proven way to get teens into the library. The movie industry uses the comic book series to create block buster movies and art critics take the genre seriously. Even mothers are encouraging their children to read comics. 
Today, more and more women are writing their stories in graphic novel form. My dream is that one day there will be enough female graphic novelists that we will have our own section in a bookstore instead of being scattered everywhere amongst superheroes and novels. Yes, we've come a long way baby, but boy, we still have a long way to go. 
Near Miss is a semi-regular feature that will be appearing on Comicsgirl throughout 2013. This project is sponsored by Big Planet Comics.