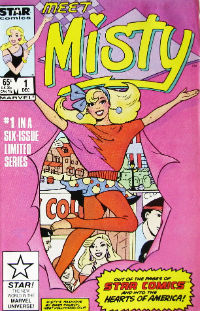 Girls like fashion. That's a stereotype, certainly, and it can't be applied to every single woman, no, but I think girls' interest in clothes gets unfairly criticized. Clothes are an easy way for girls to try on new identities, to dream of bigger things, to challenge people (and themselves). Playing dress up can be a powerful thing. It only follows that comics, when trying to appeal to girls, decided to pursue that line of thinking.
Meet Misty, the 1985 limited series from Marvel's Star Comics line, actually came with an impressive pedigree: It was written and drawn by comics legend Trina Robbins. Trying to update earlier comics like Millie the Model (Millie shows up as Misty's aunt), it was focused on clothes, boys and fame, but not without a measure of confidence and independence. Yeah, there's the typical mean rich-girl enemy, but Misty also is cool enough to hang out with rocker Spike and hip Shirelle.
Oh, it's overly lightweight, as you'd expect — most of Misty's crises involve a broken zipper and minor misunderstandings with friends. Still, she's a kind, likable character and the clothes are fun (you may recognize some of the names that "created" the designs — people like Mike Madrid and Gilbert Hernandez. I'm sure those were inside jokes that flew far over the heads of most 8-year-olds reading this comic). Overall, though, despite Robbins' undeniable presence, it doesn't feel significantly different in tone or theme than any issue of Archie and the like. Understandably, that's what the intention was, but I think there's a reason this comic has basically been swallowed by time. It's forgettable. (It's also almost impossible to find now — I wasn't able to track down all six issues.)
So let's talk about Barbie. When I started gathering titles for this project, I had a rule of "No toy tie-ins" but Barbie feels bigger than just a toy. She's a cultural icon. For good or bad, she represents a lot of different things to a lot of different women. To dismiss the Barbie comics felt like it would've been a mistake.
Here's a confession: I really like Barbie. I understand the complaints — the unrealistic proportions of the doll, the focus on consumerism, etc. — and yeah, I don't want to turn this into "I played with Barbies and I turned out OK so that should be everyone's experience!" But I still think Barbie — like playing dress-up — can be a positive experience. She can be anyone, go anywhere and do anything. And she'll look good doing it.
Between 1991 and 1996, Barbie, published by Marvel Comics, ran for a surprising 63 issues. Its companion series, Barbie Fashion, ran for 53. I think that's pretty notable for a title aimed at girls in the early- to mid-90s. I was a little too old for it when it debuted, but I'm kind of sad I missed it. It's actually a lot of fun.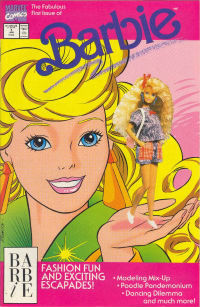 It is, delightfully, a female-dominated title. Creative teams vary, but the line-up includes Barbara Slate, Lisa Trusiani, Mary Wilshire and Amanda Conner. (While I don't have those issues, even Trina Robbins wrote for it.)
Both titles can mostly be summed up with "Barbie goes on adventures and wears cute clothes." Barbie Fashion may be a little more fashion-oriented of the two, but since both titles share a lot of the same creators, they feel very similar. That's not a bad thing, though. Clearly, Marvel just wanted to have two Barbie titles out at the same time, but in this case, it is "the more, the better!"
Barbie is always helpful and smart without ever feeling like a pushover. She's beautiful but approachable and friendly. Still, though, Barbie's never given too many individual character traits, letting her be a stand-in for the reader herself. She's easy to identify with. It's easy to want to be like Barbie — or whatever the reader imagines Barbie to be. That seems to be the point and it does feel empowering.
Most of the humor is pretty sweet, For instance, on short story is about Barbie accidentally grabbing the wrong top and bottom of a two-piece swim suit and is forced to wear the mismatched set to the beach. But by doing so, she sets off a new trend. There are light craft projects (string buttons to make a necklace!) and visits with fashion professionals who give the most basic details about their jobs.
It's not a deep comic, no, but it seems to respect its audience, thanks to the strength of the women working on it. I actually think there's a lot of room for Barbie comics of this sort to make a comeback.
Near Miss is a semi-regular feature that will be appearing on Comicsgirl throughout 2013. This project is sponsored by Big Planet Comics.