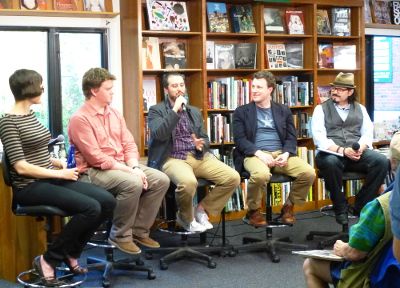 We're in the middle of an amazing era of comics for children and teenagers. There's truly something for all interests and reading levels right now with more and more comics coming out every week.
Still, as much as both children, parents and educators are embracing comics, some still view them with some doubt and suspicion. Growing Up With Graphics at Politics and Prose on April 27 tried to answer some of these lingering questions and enlightened the audience about this medium.
Moderated by the Washington Post's Michael Cavna, the lineup of creators was diverse, in both subject matter and audience. Eleanor Davis is known for both her Stinky books for Toon Books and Secret Science Alliance. Nathan Hale is illustrator of Rapunzel's Revenge and Calamity Jack and creator of his own series, Hazardous Tales. Andrés Vera Martínez is probably best known for Little White Duck, based on his wife's childhood in China. While Mark Siegel is a comics creator in his own right (like with last year's Sailor Twain, which as was pointed out at several times during the panel, is not for children), he's probably more significantly known as the editorial director of First Second.
Cavna offered some background and context for the panel with a story about his daughter having a book report rejected because it was about David Small's Stitches. The teacher decided since it was a comic, it was not a "real" book. He then had the panel introduce themselves by saying how they got into comics.
Davis said she grew up with comics. Her parents really liked classic newspaper strips so they were always around. In junior high school, she started reading manga and by high school and later, developed an interest in zines, minicomics and self-publishing. Hale said since he didn't have a comic book store in his town, his only exposure to comics were through newspaper strips and it was his interest in illustration that lead him to comics. Siegel talked about growing up in France, where comics are much more accepted, and how his family had a set of Tintin books that got passed down through the generations.
Martínez's story was more at the heart of what the panel was about. He said he was a reluctant reader and his uncle introduced him to Marvel Comics. He was attracted to the art initially and the majored in art in college. He did some illustration work and storyboards for ad agencies (which he called "comics on speed"). His agent found him the job working on Before They Were Famous: Babe Ruth and while the subject matter didn't particular interest him, the artform of comics did.
Cavna noted that all of the panelists had collaborated with someone else, and most with a family member or spouse. He asked what the best and worst parts of such collaborations were.
Martínez said his wife didn't think her stories were interesting enough to be shared, so she took some convincing. But, he said, once the book found a publisher and he told her their trips to China could be tax write-offs, she got more and more excited. Probably the best part of it, he said, is when they got to be on NPR and his wife was starstruck by the whole experience.
Davis said that while Secret Science Alliance is "technically my book" she kept showing pages to her husband Drew Weing and getting his advice on them, that it got to the point where she wondered if she needed to give him credit. As it turned out, she ended up facing a time crunch and had him ink the book for her.
She said it was pretty great working with him and it was "a relief to work with someone you can fight with." She said she loved that she knew there was one other person who was as emotionally involved in the book as she was.
Cavna then asked what obstacles they face when creating comics for children.
Siegel said that he thinks when it comes to booksellers and librarians, the battle has been won. There are so many comics for children right now, they can fill bookstores on their own. Hale said that while a few educators may not be fans, reluctant readers usually turn them around.
Davis said that she felt the people who say comics aren't "real" books just don't like comics, period. She said it's "like me talking about video games" – that's just not something she's interested in. Her attitude seemed to be that not everyone was going to enjoy comics regardless of what anyone did and that was OK.
Martínez said technology has helped – with PowerPoint and projectors, you can bring comics into classrooms and to school groups and everyone gets to see what they're about and how the children react to them. The children tend to love it and he likes visiting them.
There was then a discussion about comics literacy – that some people, especially adults, find comics hard to read. Hale mentioned he only started reading comics when he was 19 or 20 and he struggled a bit initially. He said it's more like watching a movie with subtitles.
Siegel agreed that prose and comics do different things and use different circuitry in the brain. He said "you read the words and you read the pictures" and sometimes that can be a difficult skill for people to learn.
Cavna then asked about demographics – both in terms of age groups and gender.
Siegel said First Second tries to have something for all age groups each publishing season – from younger readers to teens. He said that graphic novels do need to be sold into a specific age category, for good or bad.
Davis said she thinks that reading comics gives children a lot of confidence and they don't mind reading above or below their age level as long as the comic is good. She said she has older children who like Stinky and younger ones who like Secret Science Alliance.
As far as gender goes, she said when she started reading comics "it was a boys' club" and the general consensus was there was "something about girls that makes them hate comics." The manga boom proved that to not be true, though, and she's delighted at how many great comics there are right now for girls.
Martínez said he did set out to make his wife a role model for girls and he did have his daughter in mind when doing that. He wasn't trying to write for a specific age with Little White Duck but liked that having everything take places through a child's eyes made the events and history more accessible.
Hale said that while his publisher markets Hazardous Tales toward boys, girls like it too, especially the dark and gross parts. He said his next one is about the Donner Party and it was the girls who wanted to know everything. "Little girls are morbid," he said.
Cavna asked how they balance the growing digital market when it comes to their comics. Davis laughed and said "I pray every day my younger readers don't find my online stuff." Martínez agreed and mentioned he did some comics for the TV show Dexter, which he has tried to bury a bit (lest you think he's ashamed, he also laughed and said "Dexter bought us a car!") Hale said his online site is very clean and he finds it good for exercising his skills but he likes print more.
Siegel mentioned his experiences serializing Sailor Twain online before it was published. He said it was good for research and gave him time to revise and work things over and it led to other things that may not have happened if he had just published it in book form.
Cavna concluded by asking what memorable things people have said or written about them. Martínez bowed out, saying GoodReads and such was too scary.
Hale laughed and said a review said his art was "wobbly" and he suffered from "same face syndrome" which he didn't even know it was a thing until he read that.
Siegel told a story about the Prince of Persia graphic novel First Second published. He said he read on a video game message board that someone wrote "The art sucks! It looks hand drawn!"
After that, the panelists tookquestions from the audience (I couldn't stay for this portion, though).
The four creators did make a good case for comics and their abilities to reach a wider audience of readers. I'd like to think skeptical members of the audience were convinced and will be happily buying titles by them and others for the children in their lives. At the very least, I think everyone left with the impression there is clearly something to this whole comics-for-kids thing, and I couldn't ask for anything else.