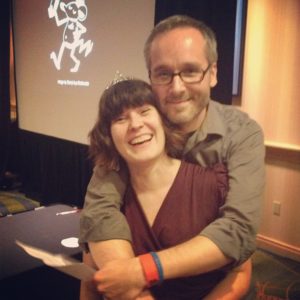 While we're here, let's talk about Small Press Expo. It was awesome, right? Because you were there! And if you weren't there, what was wrong with you?
I do have a few thank yous. I absolutely thank our entire board — Warren, Mike, Kevin, Bill, Charles — and especially Greg Bennett, who managed to keep me sane during these past few weeks. I thank everyone who attended and everyone who voted. I thank all of our guests and exhibitors.
I also have to give many thanks once again to Jerzy Drozd and the amazing job he did hosting the Ignatz Awards ceremony. I knew he was going to do a good job (I would not have asked him otherwise) but I was still impressed and delighted.
I am not going to post everything about SPX and I have some catching up to do, but if you have links, send them along!
News/interviews/reviews:
Upcoming releases:
Events:
Have comic news or events related to the D.C. area to share? Email me! Submit no later than Monday at 9 p.m. for inclusion each Tuesday, but the earlier, the better! More information is here.