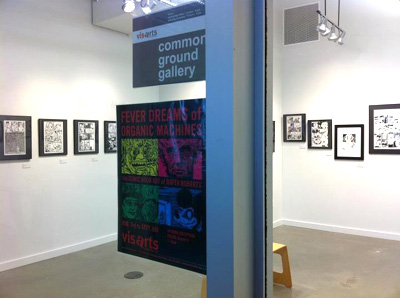 News/interviews/reviews:
Event/con reports:
Upcoming releases:
District Comics: An Unconventional History of Washington, DC, various artists, Fulcrum Publishing. Out today.
Mr. Big: A Tale of Pond Life, Carol and Matt Dembicki, Sky Pony Press. Sept. 1.
Remake: 3Xtra, Lamar Abrams, AdHouse Books, December 2012.
Events:
Through Sept. 2:"Graphic Details: Confessional Comics by Jewish Women" at the Ann Loeb Bronfman Gallery, Jewish Community Center, Washington, D.C.
Through Sept. 8:, Common Ground Gallery, Rockville, Md.
Aug. 18:Michael Rex, creator of Fangbone, signing, Big Planet Comics Vienna, Va., 11 a.m. to 1 p.m. and Big Planet Comics College Park, Md., 3 to 5 p.m.
Aug. 19: District Comics signing event, 3 to 5 p.m. at One More Page Books, Arlington, Va. Facebook event page.
Sept. 8-9:Baltimore Comic Con, Baltimore, Md.
Sept. 15-16:Small Press Expo, North Bethesda, Md.
Have comic news or events related to the D.C. area to share? Email me! Submit no later than Monday at 9 p.m. for inclusion each Tuesday, but the earlier, the better! More information is here.